Start Journey
We started as NEO-TECH Control System as Trading Company. Here we deal in all electrical and automation product.
FRC Cable
Now we started manufacturing FRC Cable, FRC modules and CNC Specific Relay module for CNC OEM.
Automation Panel
We started manufacturing wild range of Electrical and Automation panel.To meet the needs of the clients, we offer these panels in different specifications, designs and grades.
SPM Machine
We started manufacturing special purpose machine for the customized and typical application.
Converted into Pvt. Ltd Company
Established in the year 2011, as NEO-TECH Control Systems, and in the year 2017 we converting in Private Limited as NEO-TECH Electrical Control & Automation Pvt. Ltd.
Collaborate with Sick
We Collaborate with Sick India Pvt. Ltd. for the distribution of all products for Saurashtra region.
CNC Machine
We started Lathe CNC machine in three categories. Heavy Duty, Medium Duty and Normal Duty lathe CNC machine
Core Values
What we believe
Our Infrastructure 
How we work
Our state-of-the-art infrastructure is well-equipped with the latest machinery, tools and equipment that is required for carrying out standardized and large scale production. To increase the productivity in the most efficient manner, our infrastructure is carefully divided into different units. In addition to this, our infrastructure is managed by a team of machine operators. Our infrastructure is inclusive of
Sales & marketing DEPARTMENT
Dispatch & PACKAGING  Department 
Our Certificate
why trust us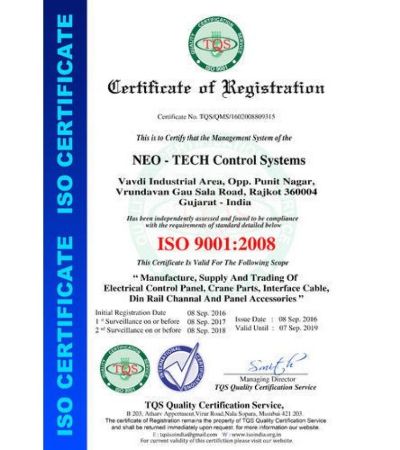 ISO 9001:2008
We are ISO 9001:2008 Certified company. this specifies for a quality management system when an organization needs to demonstrate its ability to consistently provide products and services that meet customer and applicable statutory and regulatory requirements, and aims to enhance customer satisfaction through the effective application of the system, including processes for improvement of the system and the assurance of conformity to customer and applicable statutory and regulatory requirements.

Backed and supported by a team of skilled professionals and state-of-the-art infrastructure, we have been able to meet and manage precise needs of our esteemed patrons. With the aid of logistic support and quality controllers, we have been able to deliver the defect-free range of Products. Reasons for our success are as following:
Different modes of payment
Maximum customer approval